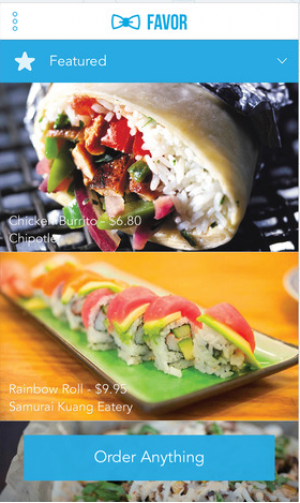 Favor
, a food and retail goods delivery order app startup, has just raised a $13 million investment round. The company, which has grown by serving college campuses and then expanding to surrounding zip codes, is preparing to launch to 10 new cities. Facing wide-ranging competition from the likes of
GrubHub
,
Postmates
, and
UberFresh
, Favor's expansion plans and large funding round are part of a race to grab market share before the on-demand delivery industry becomes too crowded. 
Using the Favor app customers can order delivery of items from retail stores and restaurants. Businesses can pay to be featured more prominently. The company also makes money from order fees. In Austin, for example, there is a $5 surcharge for delivery of goods under $50, plus 5 percent fee on the cost of goods and a tip for the delivery runner. Prices for other cities vary slightly. All payments go through the app, which is linked to a customer's credit or debit card.
The company currently operates in Austin, Dallas, Houston and Boston, and using its new investment money has expansion plans to 10 new cities, including San Antonio and San Diego. The app originated on a college campus, Cal Poly San Luis Obispo in California. Since then Favor focused itself on college towns.
"With Dallas and Houston, we started near SMU and Rice and thanks to word of mouth from Austin, it has become pretty big pretty fast without too much effort," co-founder and CMO Zachary Maurais
said to the Austin American-Statesmen
. "The great thing about those areas is there are also a lot of young working professionals who also want a service like this."
Favor claims runners make an average of $15 per hour and are guaranteed a $9 per hour minimum wage. Since launching the company said it has made 300,000 deliveries and has grown to more than 1,000 runners. 
Not including runners, the company has a full-time staff of 25, and said it would be hiring additional engineers and customer support employees. To handle the larger employee count the company will be moving to a new office on West Sixth Street.
In total Favor has raised $15 million. This last round of investment was led by S3 Ventures, included Austin-based Silverton Partners, and other individual investors like Tim Draper.