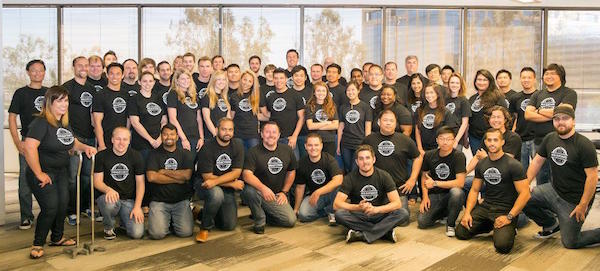 Today the global financial consulting network Deloitte released its Technology Fast 500 list. The companies were ranked by revenue growth percentage from 2011 to 2014 and included 12 based in Austin.
Among those 12, the highest ranked was
Phunware, Inc.
The mobile customer engagement platform grew by 952 percent to be ranked at 93 in North America, down from the number 4 position on last year's list.
"Our growth rate wouldn't be possible without a mobile-first, native-first and fully integrated-first approach," CEO Alan Knitowski said in a statement. "We're looking forward to a big year in 2016—adding even more depth and scale to our platform and leveraging the data and insights we can gain from more than 600 million monthly active users."
Q1 Media
was ranked second highest in Austin with 797 percent growth. The online advertising platform was founded in 2004.
Kinnser Software
CEO Chris Hester attributed the company's number eight spot on the Austin list to the efforts of its employees to improve healthcare, one of the fastest growing industries in the rankings.
"We've increased our investment in research and aligned with the most effective partners to meet the needs of our customers," he said.
Bazaarvoice
was ranked at number 10 in Austin and 394 overall with 161 percent growth. CMO Sara Spivey attributed the company's success to maintaining its expertise in customer reviews as they become a larger force in the economy.
"In order to stay committed to our promise of helping consumers make a more informed purchase decision…Bazaarvoice has evolved from simply a 'ratings & reviews' company to a consumer-generated content expert," she said. "We've expanded our product offering to incorporate a suite of tools that will better enable both businesses and consumers throughout that decision journey."
Sizmek rounded out the Austin list. CEO Neil Nguyen said the company is focused on improving the ad experience for web users, regardless of the device they use.
"We're now focused on helping clients build more engaging, interactive ads, making them more relevant to each consumer," he said. "Then deliver them non-intrusively ... and measure their efforts comprehensively, so they're clear on how to optimize their campaigns going forward.
"It is inspiring to witness the innovative ways that companies are incorporating emerging technologies for business gains, be it cognitive computing, or the Internet of Things," said Sandy Shirai, who leads Deloitte's U.S. technology, media and telecommunications practice, in a statement.
In order to be considered for the list, North American companies that have been in business at least four years and derive a majority of operating revenue from technology products must submit an application to Deloitte.
#
Rank
Name
Growth
CEO
1
93
Phunware, Inc.
952%
Alan Knitowski
2
114
Q1 Media
797%
Phil Banfield
3
281
Kimbia
249%
Daniel Gillett
4
325
One Source Networks
202%
Ernest Cunningham
5
333
Q2 Software
193%
Matt Flake
6
345
SailPoint
187%
Mark McClain
7
352
Itransition
183%
Sergey Gvardeitsev
8
381
Kinnser Software
171%
Chris Hester
9
387
Digital Turbine, Inc.
166%
Bill Stone
10
394
Bazaarvoice, Inc.
161%
Gene Austin
11
418
Asure Software
149%
Pat Goepel
12
478
Sizmek Inc.
120%
Neil Nguyen
Photo courtesy of Phunware.