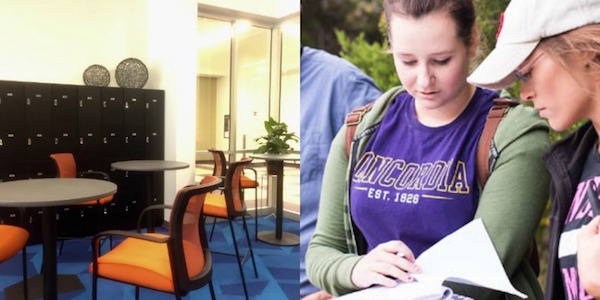 The tech takeover in north Austin continues with the announcement of Concordia University Texas's new incubator program, which is currently accepting applications.
Set to open in April, the location will be at Concordia's main campus in northwest Austin, joining Tech Ranch and ACC Accelerator Lab as one of the few incubator and accelerator locations north of downtown.
"Concordia has built the Incubator for Innovation and Impact to remain competitive and relevant; to attract and retain entrepreneurial students, faculty, and researchers, to give back to the community, and to forge connections between industry and academia," said David Aronica, professor in Entrepreneurship at Concordia University Texas.
As part of a partnership with Tech Ranch, those in Concordia's incubator will have access to Tech Ranch's training programs, mentors and events that are more convenient for those who live in northwest Austin. Since launching in 2008, Tech Ranch has supported 5,700 entrepreneurs and helped launch more than 750 solutions spanning 38 countries.
Members will also have access to academic resources and databases, online news sources, professors, subject matter experts and courses from all Concordia schools, including business and communication, natural and applied sciences, humanities and social sciences, nursing, and fine arts.
Other perks include free parking, discounted event space, 24/7 accessibility to the co-working space, video recording and production, and onsite printing and mailing services.
Perhaps most importantly, members will have the opportunity to recruit assistance from Concordia's students. For press releases and investor pitches, members can seek support from students of the School of Humanities and Social Sciences. Students from the School of Natural and Applied Sciences can assist entrepreneurs looking to develop apps, build website back-ends, or create unique algorithms. And students from the School of Business and Communication can offer a hand for startups writing business plans, developing go-to-market plans, or creating financial models.
"College campuses are ripe with innovation as students grow through education and experimentation in school," said Aronica. "That said, universities are always assessing how best to prepare students for meaningful and rewarding careers as the workplace evolves. Many of Concordia's students, for example, want more than academic degrees; they aim to launch businesses, develop new products, and start social movements."
The Incubator for Innovation and Impact is located at 11400 Concordia University Drive. Applications from any vertical are welcome. After April 3, monthly membership fees will increase to $350.
Images provided by Concordia University Texas.
Want to get in touch? Let us know with a tip or on Twitter @BuiltInAustin