The tech sector and Star Wars go together like Han and Chewy. Walk into any local tech office and you're bound to meander by a desk with a display of fan favorite collectibles.
To celebrate the 40th anniversary of the first film (or fourth chronologically if you want to get technical), we reached out to members of the Austin tech community to reflect on what the Star Wars franchise means to them. Spoiler alert: everyone is in agreement that Han shot first.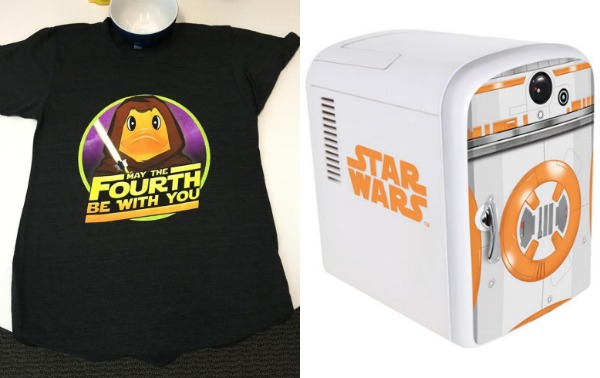 The developer of database lifecycle management solutions Idera has planned the release of an updated version of their compliance manager tool in conjunction with May 4th. Those who download a trial of the updated product from any of IDERA's social media handles will receive a "May the Fourth Be With You" t-shirt with the IDERA duck mascot dressed as a Jedi. Additionally, the Idera team will host a "Retweet to Win" Twitter contest on May 4th, for the chance to win a Star Wars BB-8 mini fridge.
Stan Geiger, senior manager of product management at IDERA, reflected on seeing the first film when it came out during high school.
What does Star Wars mean to you?
I saw the first Star Wars movie when I was in high school. It was so different from typical movies in that there were so many storylines going on. It had a profound influence on me and my taste in movies. Anytime I see any of the original movies it brings me back to my last year of high school and beginning college years.
Rank your favorite Star Wars films to least favorite:
New Hope, Empire Strikes Back, The Force Awakens, Rogue One, The Clone Wars, Return of the Jedi, Revenge of the Sith, The Phantom Menace
Did Han shoot first?
Of course Han shot first. He was a take-no-chances kind of guy.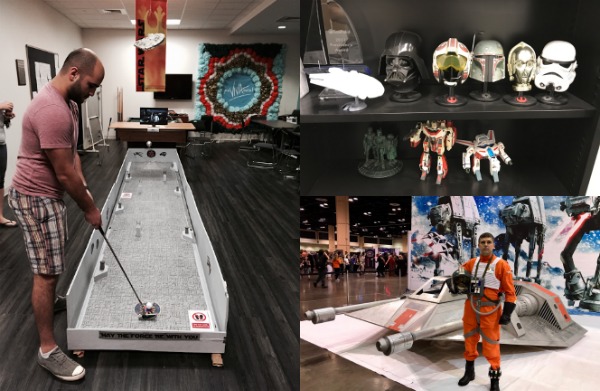 SailPoint, the Austin-based developer of identity governance and cloud identity management software, has a few cultural ties to Star Wars of their own. For their Putt-A-Thon, an event where groups build different golf holes around the office, the IT department built a Star Wars golf hole complete with sound effects, video and a banner.
We caught up with IT Director Tom Goldenburg, the company's resident Star Wars expert (who recently returned from the 40th Anniversary Star Wars celebration in Orlando) and HRIS Analyst and Star Wars mega fan Mallory Anderson to learn more about what the movies mean to them.
Does your team participate in any May 4th traditions? 
Goldenburg: We had Star Wars character masks around the office for 2016 last year. I think food was brought in as well. Every year, I wear a Star Wars shirt and send out funny May the 4th be with you messages. 
Anderson: Yep! This year myself and a few others will be sporting Princess Leia t-shirts and wigs.
What does Star Wars mean to you?
Goldenburg: I was a toddler when I went to the original release of the 1977 Star Wars movie. My parents tell me I didn't make a sound throughout the entire film as soon as it started. The film imprinted on me, and the franchise has been a huge part of my life ever since.
I've attended seven of the eight U.S. Star Wars Celebration conventions which started in 1999 and have run through 2017. I dress up as an X-Wing pilot and go to events to entertain others. The saga pulls the audience on a fantastic adventure through its own mythos with traditional, familiar archetypes, and the films constantly push the boundaries of what is possible with special effects and technology for the film industry.
Disney's purchase of Lucasfilm was the best thing that could have happened for the franchise. We're receiving at least one new film every year, Star Wars Rebels is still on television, new books telling the back stories of many of the fan favorite characters and timelines are being released regularly, and Disney is building two entire Star Wars theme parks. It's never been a better time to be a Star Wars fan. I'm looking forward to the next 40 years of stories.
Anderson: Star Wars, Lord of the Rings and the Chronicles of Narnia are the foundations of my childhood. My brothers and I watched the Star Wars movies over and over when we were little. We still watch them together from time to time.
When I was little I wanted to be Princess Leia when I grew up. I actually wouldn't cut my hair for a long time because I wanted long hair like her. It was cool to have a strong female to look up to. Don't get me wrong, I love the Disney princesses too, but they don't always fight for themselves. Leia is a badass rebel who's not afraid to call the shots and join the fray. She could wear a pretty dress and hold her own on the battlefield. She showed me that being feminine and strong were not mutually exclusive.
Rank the films from favorite to least favorite: 
Goldenburg: A New Hope, Rogue One, The Force Awakens, Empire Strikes Back, Revenge of the Sith, Attack of the Clones, Return of the Jedi, Phantom Menace
Anderson: Return of the Jedi, A New Hope, The Force Awakens, Rogue One, The Empire Strikes Back, The Phantom Menace, Attack of the Clones, Revenge of the Sith
Did Han shoot first?
Goldenburg: Yes
Anderson: Hell yeah he did!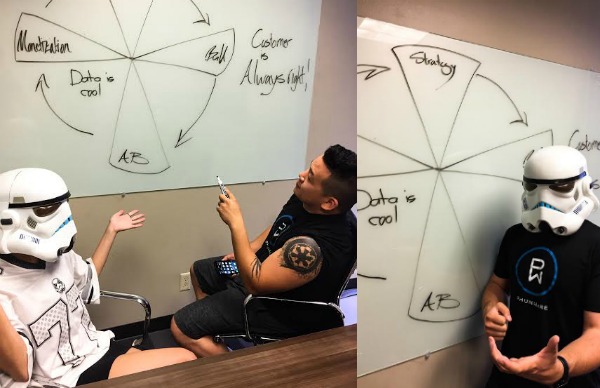 Although Phunware doesn't have any formal May 4th celebrations, the team is filled with film enthusiasts — including Mobile Solutions Consultant Brian Liu, who has a dedicated tattoo on his left triceps. Chris Orzeske, Phunware's social media manager, software engineers Alex Stolzberg and Branden Chaisorn, and UX/UI designer Ivy Knight reflected on how Star Wars has impacted their lives. 
Does your team participate in any May 4th traditions?
Chaisorn: Not yet, but a Star Wars happy hour should be a thing.
Knight: Not really, we tend to participate in Star Wars-related things all year round.
What does Star Wars mean to you?
Orzeske: Star Wars was one of the first things my dad and I could truly connect on; he was a young teen when A New Hope hit theaters, and I was a young boy when the prequel trilogy was (for better or worse) released. It represents the first fictional universe I was able to fully immerse myself within.
Stolzberg: Star Wars has always meant a lot to me having watched all of the original trilogy movies as a child and watching all of the Star Wars movies as they have been released since then. It is just a very compelling story about fate and hope that has always captured my interest. The characters and their relationships/how they change are also very interesting
Chaisorn: Star Wars is the epitome of a great science fiction drama. It means a lot since it's one of the major reasons being a nerd is cool.
Knight: Star Wars is an escape and creative outlet for me. Even without delving into the massive extended universe, the overall world set up gives a lot to explore. I've always enjoyed the mix of fantasy, science fiction and adventure it brings, similar to old science fiction serials.
I love the costuming community around star wars, so researching and drawing costume ideas allows me a creative outlet that is different from my day-to-day. There is also a sense of community and family in Star Wars. My mom saw the original trilogy in theaters as a teenager and in turn got me into them as a kid — I skipped school to go see the Phantom Menace. Most recently, we went to the midnight release of Force Awakens for her 50th birthday.
Did Han shoot first?
Orzeske: I mean, obviously. It's not like Greedo can tell us otherwise.
Stolzberg: Of course!
Chaisorn: Han ALWAYS shot first
Knight: I'm offended that this is a question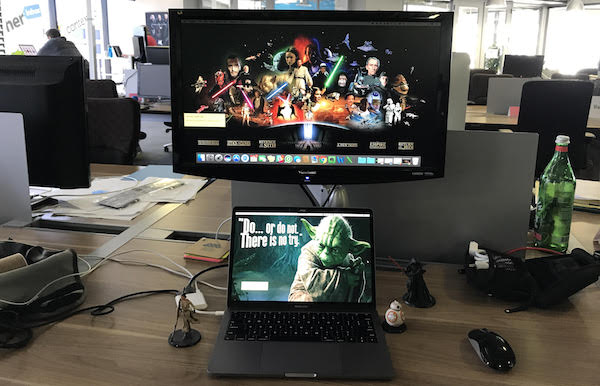 R.C. Rondero de Mosier is the COO and attorney in residence at JustLegal, a website connecting individuals with lawyers. The small startup works out of Capital Factory's co-working space. The non-traditional office setup may have stopped Rondero de Mosier from bringing in his entire Star Wars Lego collection, but he was able to surround his desk with a few figurines.
Does your team participate in any May 4th traditions? If so, what?
Our team is new, so no May 4th "traditions" yet, but this year two of us will be in San Francisco enjoying some good old Bay Area hijinks during May 4th (then Cinco de Mayo the next day). Also, my Star Wars generator name is Dak Fissionblast.
What does Star Wars mean to you?
Star Wars means to me blue milk and daddy issues — I have both.
Please rank your favorite films to least favorite films of the Star Wars franchise
Rogue One, Empire Strikes Back, A New Hope, Return of The Jedi, Revenge of the Sith, Attack of the Clones, Clone Wars (TV), Rebels (TV), The Star Wars Christmas Special (TV Special), The Phantom Menace
Did Han shoot first?
The fact you asked if Han shot first is offensive. Of course he did.
Images provided by companies and social media. 
What summer traditions does your team having coming up? Email us.