Austin's tech explosion has brought with it a variety of employment opportunities, from coding to sales and marketing to growth hacking. Some of the most exciting startups in the Austin area are hiring right now, so have a look and see which opportunities best match your experience, skills, and attitude.
Offers.com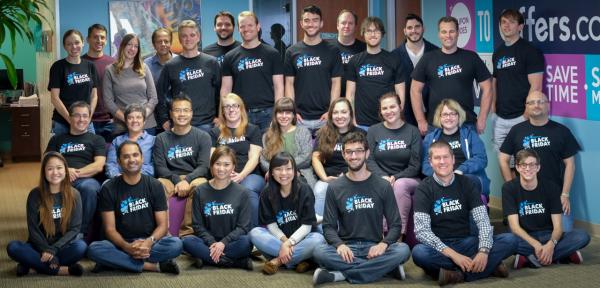 Offers.com
serves up deals and coupon codes for everything from clothing, electronics, home & garden, to travel deals. The site has savings deals from over 6,000 stores and brands. Offers.com has been profitable since launching and makes money via referral fees from brands and stores. The company is growing, and looking for candidates that make an impact on performance.
"Ideal candidates are data-oriented and analytical but also creative and ready to roll-up their sleeves," said CEO and founder Steve Schaffer. "We love saving people time and money, so candidates who share that passion fit well with our culture."
Funding: $7 million
Location: 7801 N. Capital of Texas Hwy. Suite 300, Austin, TX 78731
Perks: Weekly office lunches, free snacks and drinks, annual performance-based bonuses
Home Improvement Leads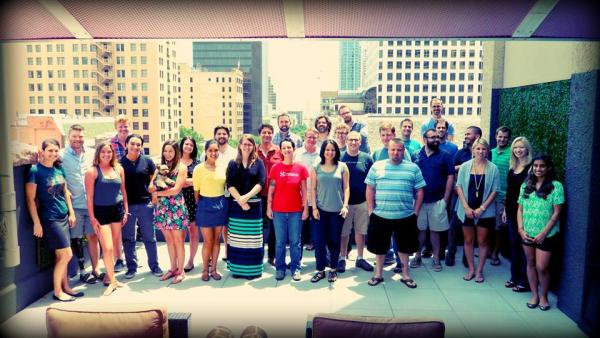 Last year,
Home Improvement Leads
connected 600,000 homeowners nationwide with contractors specializing in work like HVAC, solar panels, painting, roofing, siding, bathrooms remodeling. Home Improvement Leads operates a network of websites that helps homeowners assemble competitive quotes from contractors. This gives contractors a marketing channel for their services.
Though growing the company feels small and accessible. Caroline Taylor, a Home Improvement Leads recruiter, said: "Our CEO is at a desk at the back of the office and is always willing to talk with anyone - as well as our executive team - they are all there and are always available. And the most exciting thing right now is that we are going through some aggressive expansion — which means that getting in with us now would be like getting in on the ground floor of an organization that is headed to the moon!"
Funding: NA
Location: 804 Congress Ave, Austin, TX 78704
Perks: Flexible paid time off, awesome patio with downtown views, free lunches, snacks, free beer
Founded: 2005
Alchemy Systems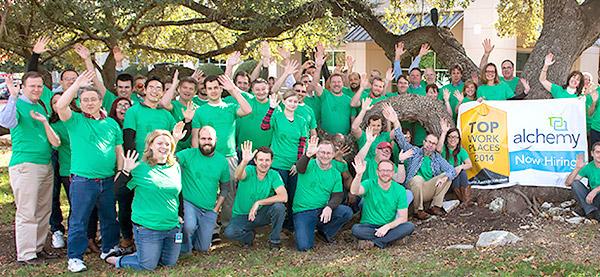 Every business needs to train their employees. Alchemy makes its money building online and software-based courses for food safety, workplace safety, operations training and human resources training. The company is rapidly growing and creating new methods for training including augmented reality said Wes Burke, director of human resources. To date the company's digital learning programs have trained 2,000,000 people in over 10,000 locations. The company wants employees who are "continuous learners that anticipate opportunities and provide proactive solution," said Burke. Employees "that demonstrate an enormous amount of energy to helping others multiply their success."
Funding: NA
Location: 5301 Riata Park Ct. Building F, Austin, TX 78727
Perks: monthly massages, catered lunches, employee appreciation events, volunteer opportunities, flexible hours, an annual professional development stipend
Founded: 2003
Volusion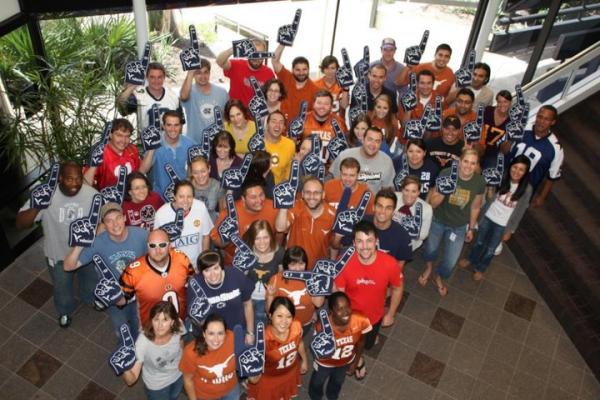 Volusion
is a turnkey e-commerce store builder. It allows small businesses to create e-commerce stores that look and operate like the ones used by large retailers. Site design, digital marketing, SEO, inventory, and order processing are all handled with the Volusion platform. Over 40,000 businesses use Volusion for their e-commerce websites. For more custom options, the company has over 400 e-commerce experts that help with unique web designs, digital marketing needs and business features.
Funding: $90 million
Location: 9300 United Drive. Austin, TX 78758
Perks: 401(k) with company matching, onsite yoga classes, onsite fitness classes, two days paid time off for volunteering, paid parental leave, chair massages, dry cleaning service, snacks, beer Fridays
Founded: 1999
WP Engine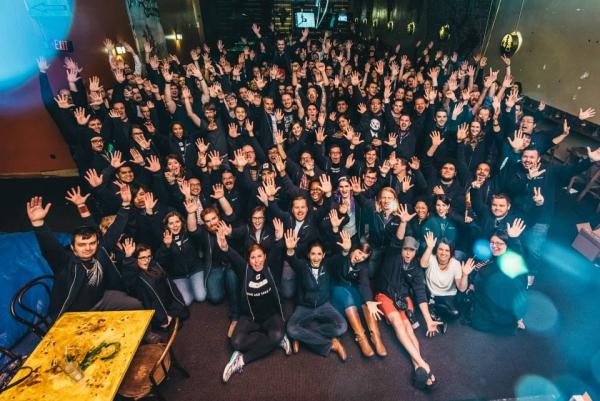 WP Engine
is a WordPress hosting company. Everything from small personal WordPress websites to large WordPress enterprise websites with millions of visits per month are hosted by WP Engine. The company prides itself in providing a premium hosting service, with expert Wordpress customer support representatives and an infrastructure that can quickly scale as website traffic grows. WP Engine was also recently voted the #1 Top Workplace in Central Texas by the Austin American-Statesman.
Funding: $16.2 million
Location: 504 Lavaca Street Suite 1000, Austin, TX 78701
Perks: A private chef that prepares complimentary daily lunches, parking in the heart of downtown Austin, commuter reimbursement, flexible hours
Founded: 2010
Umbel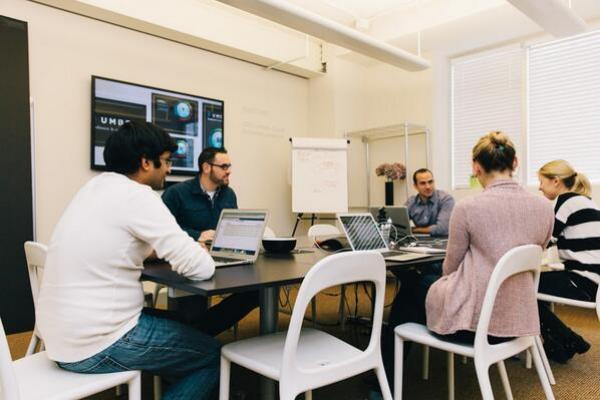 Umbel
is a data platform that helps businesses understand their audiences better and then turn those audiences into customers. The platform helps collect, slice, analyze, and engage audiences in a number of ways. By tracking user behavior Umbel can infer user information like social-demographic data and interests. It is like having your own "virtual data scientist."
Funding: $3.7 million
Location: 901 W 9th St Austin, TX 78703
Perks: Unlimited paid vacation policy, onsite employee parking, stock options, unlimited snacks and coffee, monthly fitness activity reimbursement and health tracking technology, community involvement through Meals on Wheels and more
Founded: 2010
Malauzai Software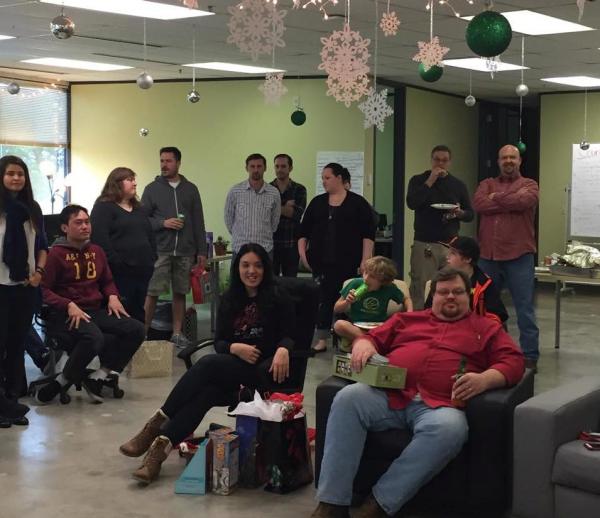 Malauzai builds mobile banking apps for community banks and credit unions. As banking goes increasingly mobile, Malauzai is bringing small banks and credit unions along with features you'd expect from Fortune 500 financial firms. Malauzai apps show account balances, loan information, credit information, internal account transfers, location-based ATM finders, and in-app marketing and messaging features– all the mobile financial tools small banks need to play ball with the big guys.
Funding: $13.08 million
Location: 9020 Capital of Texas Highway Building 2, Suite 168 Austin, TX 78759
Perks: Competitive salary and comprehensive benefits
Founded: January 2010